Our ehosting.ca servers have direct access to high-speed redundant OC48 connections to the Internet backbone which is over 1700 times faster than a T1 connection and 17 times faster than an OC-3 connection.
Our backbone has multiple upstream providers to guarantee zero packet loss (within our backbone) and uninterrupted transit to the Internet at all times.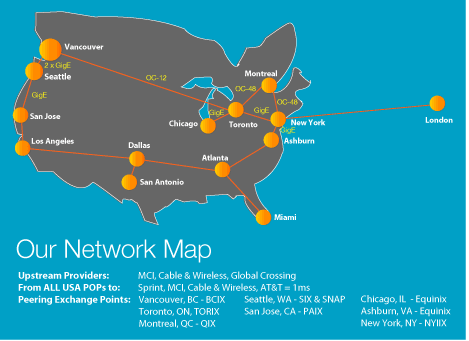 In addition, our backbone has point of presence in Vancouver, Toronto, Montreal, Seattle, Los Angeles, San Jose, Chicago, New York, Ashburn and London and has direct network connection to major American backbones (such as Sprint, MCI, AT&T, Cable and Wireless) and major Canadian backbones (such as BCIX, QIX and TORIX) to guarantee superior speed and performance.

We offer:

99.5% network uptime guarantee

All network connections make use of Cisco's HSRP
(Hot Standby Router Protocol)

Multiple upstream providers

450 + peering arrangements

OC12, OC48 clear channel backbone network

Greater route diversity

6.0 Gb/sec cross border transit (Canada/US)

No single point of failure

Zero packet loss guarantee

Fastest inter-city times

Network and servers are monitored 24/7

Network and server components have onsite spares


Our Data Center and Network
At Mecca eHosting.ca, all of our equipments are operated and kept on-site in our state-of-the art data center located in Harbour Centre at downtown Vancouver. Our Storage Area Network (SAN) has over 10,000 gigabytes of data storage capacity. Our fully redundant OC48 network has an outstanding reputation for speed and reliability.
The best equipment is only part of our approach. To make sure of complete customer satisfaction, Mecca has also implemented our own Aggressive Servers Monitoring System. This system not only monitors our servers for attacks and outages, it continuously benchmarks the severs system for web, ftp, and email performance - 24 hours a day, 365 days a year. If problems do arise, our technicians are instantly notified, ready to take immediate and corrective actions.

Our Team of Experts
Our Network Operations Team has more than 20 years of experience in web hosting, to ensure the best performance of our servers and your website(s).